Real Pilates with a Real Master
Train with Pilates Master Nikki Perkovich
Choreography NEVER repeats stimulating the body for REAL Results FAST
DRAMATIC RESULTS IN A FRACTION OF THE TIME
FREE 30 Minute Cadillac/Tower
FREE 20 Minute Wunda Chair
This Month on RealPilates we continue to focus on the Spine! 
Discover how to keep our "Fountain of Youth"  Vital Strong – Stable yet "Flexible"  and aligned.
Why is low back pain more common today than ever before?
How & why does Sciatica start? Let's cure it and best of all avoid it.
Tendon & Ligaments. How are they different? Get the science on why passive stretching can make joint unstable and more prone to injury.
How can runners AND couch potatoes both develop IIiotibial Band Syndrome (  aka I.T. band  )?
The Tensor Faciae Latae -WTF is that? How can a tight one can make the belly pooch outwards?
Muscles you know what they are – learn how to build "lean" strong yet "springy" muscles to look great and help prevent  joint stress pain & injury and more.. see you in class!
What is a C-curve and other terms!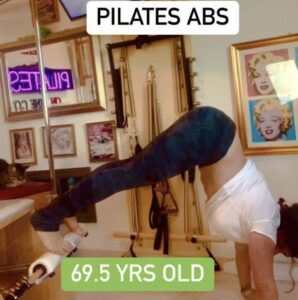 13 BRAND NEW CLASSES EVERY WEEK! 
Live Classes Monday – Saturday
Plus Unlimited Video Library Access